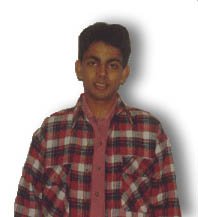 I was just curious about something. See if anyone out there can help me out. The calendar started from 0AD, so what was the period while Jesus was still alive? It could not have have been AD or BC.

Khuda ka zikar kare
Ya tumahri baat kare
Hame to he iskh se hi matlub
Hum kisi ki baat kare
(who is she?)
Welcome to my homepage. Those who don't know me, my name is Jatin. I am a Gujarati and was born in Fiji. My parents are from India and I am living in Australia since the age of sixteen.
Most of my primary and secondary schooling has been done in Fiji at Marist Brothers Primary School and Marist Brothers High School. While in Australia, I lived in Ballarat for two years to do my years of secondary schooling at Ballarat High School. In 1995, I started studying Bachelor of Commerce at Latrobe University and the following year, I transferred into Monash University (Caufield, Melbourne) to do a double major in Bachelor in Business (Accounting) and Bachelor of Computing (Information Systems). I am currently in my fourth and final year.
I love watching hindi movies and my favorite stars are Madhuri Dixit, Manisha Koriala, Salman Khan, and Anil Kapoor. I like listening to all types of music from Hard Rock (Guns and Roses) to Classical and I even love Gazals and Ravi Shankar. Sports... I like watching Tennis, Cricket (one day matches, five days ones get a bit boring) and Formula One Grand Prix. I did play tennis in Fiji, as there were five tennis courts opposite my house but I haven't found the time (and its too cold) to play here. My favorite players are Pete Sampras, Andre Agassi and of course Martina Hinges. I also do collect stamps from around the world and currently have a collection of over 3000 stamps.
I have seen very little of this world (but I would like to go). I have been to India, New Zealand, Hong Kong, Japan, Singapore, and Sri Lanka. I would like to visit USA, Europe and Canada as I have a few great friends there. I would say the best place of all would be Japan. It was the first time I saw snow (I was only ten years old) as there were so many interesting things to see and do in four days. The South Island of New Zealand is also a fascinating place to be, as it has magnificent scenery and if you are going there, definitely go to Milford Sounds and Queenstown.
I hope that you enjoy looking through my homepage. These pages are updated regularly so do come and check it out. If you would like to suggest thing to improve my homepage, please feel free to mail me and I will definitely look into your suggestion.
Fiji


Fijilive


Fijivillage


Fiji Online

Government

Suva

Fiji Islands


Fiji Islands

Telecom Fiji